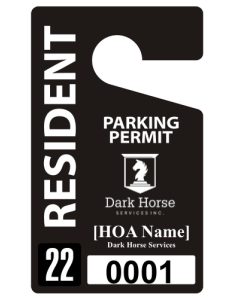 Is the Dark Horse Services' Parking Permit Program Right for Your Community?
Do your residents utilize their garages, carports, or designated spots for parking their vehicles?

Do your residents use "guest" parking spaces instead of their garages, carports, or designated spaces?

Do your guests have problems finding a parking space when they visit?

Do residents park unauthorized or over-sized vehicles in the roadway or community?

Do residents park in fire lanes, on sidewalks, or block community common areas with their vehicles?

Do residents ignore HOA, local, state, or complex rules and bylaws?
What to Expect From Our Parking Permit Program
Dark Horse Services will guide your community through the process of establishing an effective and simple parking permit program. Our personnel will encourage residents to use their garages appropriately, in turn creating more guest parking, eliminating unauthorized or solicited parking, and eliminate the concern of fire hazards or roadway obstructions.
Dark Horse Services will tailor the program to fit your community's needs and layout based on your community's input and our recommendations. Dark Horse Services will provide:
Permit letters – explaining how the program works;

Garage inspections (if necessary) – ensuring HOA or community bylaw compliance;

Handing out/mailing permits to qualified applicants; and,

Opportunities to build community relations and ensure a safe and secure residential community
Our goal is to save the association's board and community members from inconveniences and disruptions to normal work flows.
Costs and Services
All of the following is provided by Dark Horse Services, which is included in the price of the program:
All decals and hang tags at no additional cost;

Database design and maintenance to facilitate tracking of all issued decals, all registered vehicles, citation history, and tow history;

A letter to residents explaining the parking permit program will be provided to your property manager; it may be amended as necessary and mailed to all residents;

All transactions after the mailing of the letter to residents will be the obligation of Dark Horse Services, relieving Board Members and the property manager of the workload associated with this program;

If the association has a towing procedure in place for any violation, proper towing signs in accordance with CVC 22658 will be provided & posted at no cost; and,

A manned dispatch center, available for calls 24/7/365.
If you are interested in learning more about our parking permit program, contact us today to obtain a parking permit program questionnaire.